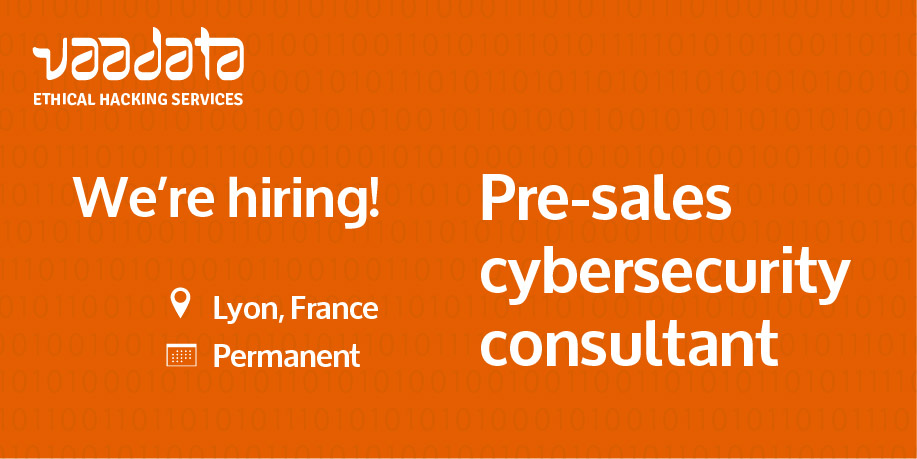 Vaadata is a startup specialised in penetration testing / ethical hacking. We are looking for an engineer to strengthen our business team during the pre-sales phase.
Who are we?
A dynamic startup with a strong technical culture (subjects: cybersecurity/pentest, on web, mobile, IoT, social engineering scopes)
A French company with many international customers (Europe & USA)
A small and fun team, very different to the corporate world of big consulting companies
An 100% independent and socially engaged company
What's the job?
We are looking for someone capable of reinforcing the business team by bringing a real technical credibility:
Knowledge of cybersecurity challenges, understanding customer needs, diagnostic capability and power of conviction.
More precisely, we foresee following missions:
Participation in client meetings with a business developer
Analysis of the needs and proposal of accurate solutions (defining the scope to pentest and the technical approach to favour)
Estimation in order to prepare quotations
Advising clients on their security strategy in customer loyalty schema
Representing Vaadata on different events
Writing of technical articles on different security themes
Interface between the technical and business team, in order to give technical credibility to commercial / marketing / communication actions
Possibility to be more involved in the technical part (transverse missions, consulting) or in the business part (negotiations, sales) depending on the competencies and the motivations of the person who will be recruited
This list is not exhaustive and might evolve depending on the profile recruited.
Who are we searching for?
Above all, someone capable of doing the job! (based on the above description). We suppose that it would fit a cybersecurity engineer, more attracted by advising clients than by a technical job.
Being capable of working in English (included spoken English) is necessary. Another language (especially German, Spanish or Portuguese) would be a plus.
We are open to a senior or a junior profile, or an atypical profile, providing your profile is convincing enough to be credible in our profession and to be compatible with our start-up culture.
The job has career progression possibilities, included internationally, as our development evolves.
Job type: permanent