We are happy and proud to share with you that we are now officially a CREST accredited company for penetration testing.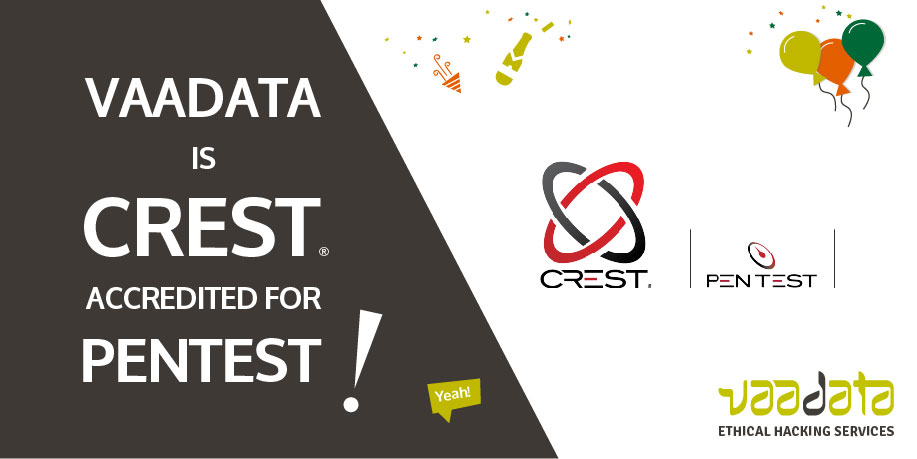 This accreditation demonstrates our commitment to offer high level of professional penetration testing services. It certifies that Vaadata respects appropriate processes and procedures for conducting penetration testing and for the protection of its client information.
In order to achieve the CREST accreditation, we underwent stringent assessment. Our business processes, data security and security testing methodologies were reviewed. Vaadata had to demonstrate that its methodologies are able to provide its clients with a robust assessment of their information security posture.
As we are working with customers from different countries, located all across Europe and the USA, it was important to us to achieve an accreditation recognized on an international level to reinforce the trust of bond. We are now the first company headquartered in France to become CREST approved for Penetration Testing Services.
What is CREST?
CREST is a not-for-profit accreditation and certification body that represents and supports the technical information security market. CREST was set up in 2006 in response to the clear need for more regulated professional services and is now recognised globally as the cyber assurance body for the technical security industry.
CREST provides internationally recognized accreditations for organisations and individuals providing penetration testing, cyber incident response and threat intelligence services.
Penetration testing services provided under CREST are supported by comprehensive codes of conduct for both the company and individual. These codes are used to ensure the quality of the services provided, the integrity of the companies and individuals as well as their adherence to audited policies, processes and procedures. This provides a significant level of protection for any organization procuring these types of services.
To receive other articles: click here